These are some of the cymatic images I was able to capture using the high-speed camera methods described below:
Finding my inspiration from the amazing Nigel Stamford Cymatics sound art visualisation video that I wrote about previously – click here for the post
To see his sound art visualisation check out his cymatics music video below:
Nigel Stanford best sound visualisation
I decided to look further into the cymatics meaning and found the word was invented by Dr Hans Jenny.
image courtesy of www.idisturato.com
Dr Hans Jenny created several televised experiments back in the 1960s which are mind blowing to watch, several clips can be found on youtube.
The videos give a great introduction to cymatics and shows scientific phenomena in action using high-speed camera techniques.
Although all the experiments in the series have been conducted in laboratories, I still wanted to try and do my own high-speed camera sound visualisation projects.
I remembered back to an episode of the television series 'The big bang theory' which showed a scene where they had conducted an experiment using a non newtonian liquid cornflour and made it move from the sounds.
A clip from this scene is linked to the picture below:
---
---
---
Trying my own Cymatics high-speed camera photography Experiment
This got me thinking about recreating the scene myself and after finding an old speaker and watching several YouTube tutorials which explained in detail what equipment was needed to produce the cymatics photography formations, I was ready to try it for myself. I then mixed cornflour with water and using an online tone generator I was able to make sounds that could be visually experienced through the liquid within the speaker.
A picture of my set up is shown below: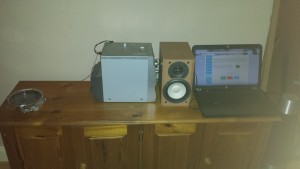 Lighting wise I was able to use 2 off camera bare flashes set at their lowest setting 1/128 and used a microphone trigger with a delay function to light the image. The camera was set to an exposure of 1 second and the room was darkened to ensure no ambient light was leaking into the exposure. For the background I used a black cotton sheet.
I have included a diagram of my home studio set up which will hopefully help to create a similar scene when photographing high speed liquid on a speaker.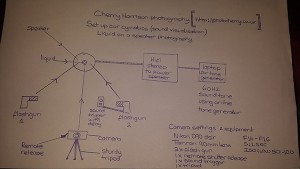 The diagram above shows the settings I used on my Nikon Dslr camera. I have also stated on the diagram that I used a Tamron 90mm lens but I also tried the Tamron 70-300mm lens which had a macro function (albeit not as sharp as the dedicated macro 1:1 – 90mm) because of thelonger focal length which had its own advantages.
I used the laptop that was connected to the hifi and found a simple yet extremely effective tone generator
http://onlinetonegenerator.com/
Which allowed me to play the tones through to the hifi speaker that I had hooked up to the laptop with compatible AUX cables
I tried sound frequencies through the speaker between 10 and 160hz, to find out what could be seen. From this I noted that the lower frequencies (10-30hz) made shapes with deep contours. 60hz made formations that were biomorphic /nature like in form
I have listed 2 of the most helpful youtube guides underneath
Below are a few of the sound art visualisation formations I was able to capture using a 60hz sound tone
Although i found the formations to be strange and interesting i did not like the clingfilm shown in the photograph so decided to go back to the drawing board and find another way to convey cymatics.
---
---
---
Cymatics high-speed camera Photography experiment 2: Alternative non Newtonian liquid
My next set of high-speed camera experiments used the same speaker components set up but this time I swapped the clingfilm for a black rubber balloon which allowed for a level surface over the speaker.
My first job was to set the camera & tripod in a front facing horizontal position that brought the speaker tight into the camera frame.
Once I had my camera in a good place, I then needed to get the lighting how I wanted it for the shot (background blacked out and only the speaker in the frame.
I mentioned earlier I was using a 1 second shutter speed on the camera because it was the 2 xspeedlights (flashguns) that would light the image.
Most consumer level cameras are unable to sync with speedlights at the high speeds needed to capture cymatics images or any other events that the eye cannot see. We overcome this by using sound to activate speedlights but in this case we do not want activation from the exact moment of sound we need to wait for a reaction.
To allow for these additional fractions of a second I needed to use a sound trigger with a delay function which allows the speedlites a changeable delay in 1000ths of a second from when they activate after hearing a sound. The reason we need this control is because if there was not a delay then the instance of the flash would not allow for any formations to occur. You can purchase sound triggers with delays from lots of different photographic outlets online, Ive used ones from Ebay, Amazon and a small electronics company. I would recommend starting with a basic model as long as it features a delay function.
Below shows me trying to get a high-speed camera shot of a screw being lifted into the air by the vibration of the speakers rubber membrane when a sound tone is played and the speedlights are activated.
If you click on the image above to enlarge it, you can see that the screw has started to levitate above the speakers balloon surface.

I used a metal screw as it was a far less messy alternative to liquids whilst I was getting my timings right. The constraints I decided to work to were if the screw was still upright it was before the sound tone vibration reached the speaker then the exposure was too soon. Likewise if the screw flew off it was too late. Expect to spend a lot of your set up time on this part of the process as once the lighting and the timings have been set, you will be all set to go with the creativity.
After I had captured the high-speed camera photograph of the screw I then was able to change to liquids and started with the cornflower.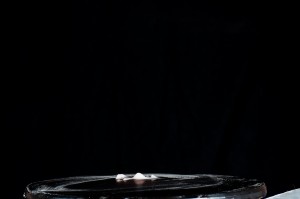 Unfortunately after several attempts I realised nothing actually happened with Corn flour/starch so I decided to try other non newtonian liquids and came across a good consistency in shampoo and body lotion.
Finally after many attempts i managed to capture the moment of the liquid rising. Below are some of my 1st shots that showed the liquid rising, however as you can see, I needed to again alter the fraction of time to allow more of the formation to show.
Even shaving gel gave off some strange but interesting formations, The following images show these gel turning into foam at the point of sound implosion.
After some changes to:
focal length
delay to sound
tripod height
speedlight duration
aperture
I was finally at a place where I was able to get some high-speed camera images that I was able to use as my own take on Cymatics and sound art visualisation. In total I was able to capture over 70 of these types of images in this one session, using the same 60hz tone wave from the online generator.
I tried several different lotions and liquids from around the house, combining on occasion, each time the formations gave of a strange surreal shape.
Post production is minimal with this sort of photography, I use lightroom to increase black and add some contrast and for this batch I turned my image into monochrome (b&w) but apart from that and a crop to help with composition, and a few tweaks to the tones nothing more was needed.
I have featured some of the earlier formations that I captured below.
I hope this blog helps others with the basics of cymatics (visualising sound) when trying your own photography experiments. Feel free to message me if you have any questions about this type of photography.
If you have tried this yourself please post a link to your images in the comments section