CYMATICS Science by Nigel Stanford:
Click the image to view the video or use the following link http://youtu.be/Q3oItpVa9fs
The footage really is mind blowing, showcasing, Science and Sound and how they can be manipulated in a way that transcends into art.
I am amazed with how it all works. This fantastic video features lots of scientific experiments with progressively dangerous elements added to the mix. I came across this footage when it was shown by a tutor from the Science department at Salford university. I had made an appointment with Dr Richard Pilkington to discuss ideas on how to collaborate with the Science department on my final major project for my BA Hons Degree in Photography.
The footage which has foundations built around the application of physics, gave me a lot of inspiration for a photographic take on these kind of experiments.
Below are some screen shots of the video showing how the team experiment with sound, electricity and vibration in a mesmorising way.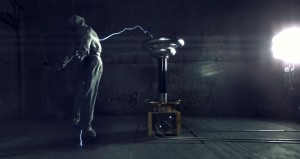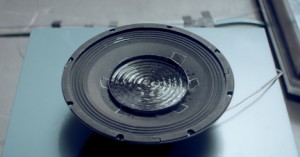 For more information on this video and a the opportunity to download a HD version please click on the following link for Nigel Stanfords website. —> HERE
---
---
I have come to realise that most of the macro photography projects I undertake, are related to science. I find the subject has a magical appeal to it. Although far removed from fantasy in that it is applied to record in a non-fictitious way, I am still amazed and in awe of its capabilities, not just in technology but in an environmental and biological essence. These feelings bring out my inner child, especially when I see experiments that are visually surreal & challenge my brains ability to process the information straight away, I find myself cast back to an enchanted mindset of youthful discovery.
One of my very first reasons that I was drawn to photography was from watching the Discovery Channel with my mother when I was a teenager and seeing a documentary on Bioluminescent Organisms – These creatures from the depths of the ocean had the ability to emit light from their bodies. This I have looked into further when I produced a series of image which focused on their biological systems using a laser technology related to physics as showcased below.